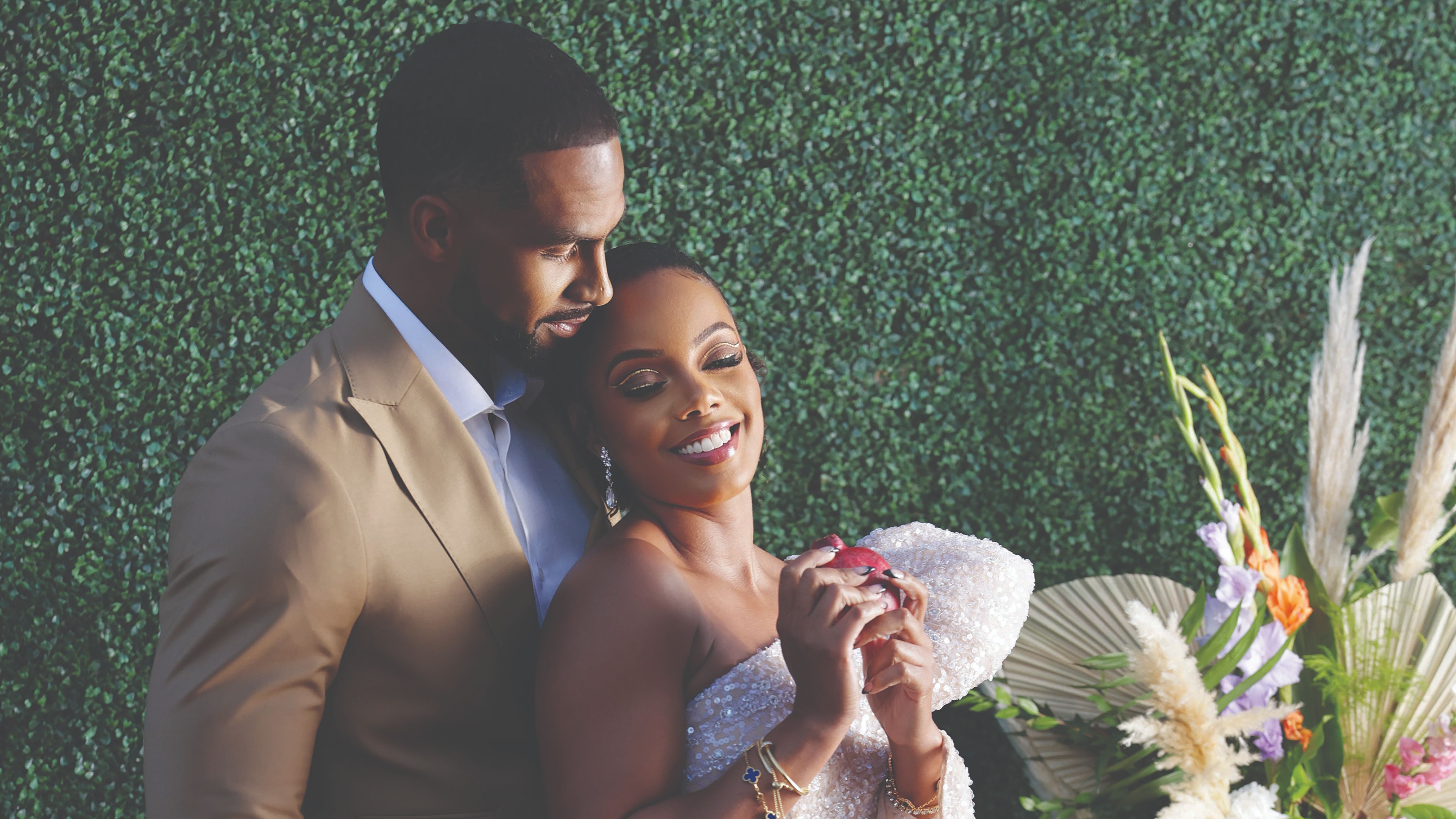 Hair care entrepreneurs Monique and Melvin Rodriguez have built their multimillion-dollar brand on 'passion' before profits
Not every business gets a Sunday morning plug by the pastor of one of America's largest churches. Though Joel Osteen didn't name Mielle Organics to the thousands in his Lakewood Church congregation and online viewers in one of his sermons, earlier this year, the beauty products company's ardent fans knew just who he was talking about.
Osteen shared the business's remarkable success story as an inspiring example of the impact someone can make when they have faith—a tribute that left co-founder Monique Rodriguez "humble and grateful," she tells WayMaker Journal. In less than ten years, the business that was born in the former nurse's kitchen has exploded into a multimillion-dollar enterprise that recently became part of the massive global Procter & Gamble family's beauty division.
While their success has been rewarding, for CEO Rodriguez and her COO husband, Melvin, it's not just about the money. In addition to building generational wealth for their family, they are glad for the opportunity to inspire others to pursue their entrepreneurial dreams and build a brighter future.
"We like to focus on people first and then product, because the people are what matters," says Rodriguez. "We are a purpose and mission-driven brand. It has to be something that's beyond yourself because we are all here on this earth to serve as vessels in our community. You have to go into business and entrepreneurship with a selfless mindset, because at the end of the day, what you do is not about you, it's about who you serve and how you can make an impact on their lives."
Wanting to share their story more widely, "we understood that we needed help to tell [it] globally, because we under- stand that our kids and our communities can't be what they don't see," says Melvin of the P&G deal. "We wanted to show that all things truly are possible, that dreams do come true." As part of the purchase, each company gave $10 million to the Mielle Cares Foundation that was established to promote and support education and entrepreneurship in Black and brown communities.
"You have to be accountable for your side of the court and what your role is"
–

Monique Rodriguez
Rapid Growth
The Mielle story Osteen spotlighted began in 2013 when, grieving the loss of a baby when she was eight months pregnant, Rodriguez found some comfort in creating her own hair care products, sharing the results on social media (Mielle's Instagram account now has nearly 1 million followers). Though she'd always had a creative, entrepreneurial side growing up, she had pursued a career in health care because it seemed more realistic.
"When I went through the situation with the loss of my son, it really allowed me to do a lot of self-reflecting and developing my relationship with God," she says. The inspiration to post about hair care and hairstyles came when she decided she wanted to "live life to make Monique happy and not make other people happy."
Her Mielle creations—the name comes from the couple's two daughters, Mia Gabrielle and Mackenzie Arielle—took off quickly, prompting Melvin to leave his corporate career in logistics to work alongside Rodriguez in the startup. On their launch day as e-tailers, they sold out of every bottle of hair and scalp almond oil they had. It was a good sign, and Mielle's rapid growth didn't go unnoticed: prior to the P&G move, Rodriguez had secured backing from the New Voices Fund for Women of Color and a subsequent nine-figure investment from Berkshire Partners.
Today, Mielle's 70-plus natural-based hair and skin products—from shampoos and conditioners to moisturizers and creams—are available in more than 100,000 stores across the country, including Ulta Beauty, Sally Beauty, Target, Walgreens and Walmart. They have been featured in "best of" lists by the likes of Cosmopolitan, Marie Claire and Elle.
What started with selling products to consumers has ended up "becoming something bigger because the women that purchase Mielle are consumers, they leave a purchase feeling confident, feeling strong, like it's really changing their lives," says Rodriguez. "All the messages that we get of consumers saying how our brand has changed their lives or helped them gain more confidence, to me that's impact and that's something bigger than selling shampoo and conditioners."


Faith Foundations
Aware that Black women in particular have limited access to entrepreneurial help and support, Rodriguez hosts an annual The Secret Sauce to Success retreat every March, marking Women's History Month, to pass on some of what she has learned. "It's my way of giving back, because I have been there," she says. "I remember starting and not having any mentors,
not having anyone to ask questions of, so I wanted to be that resource."

She has two key pieces of advice for future entrepreneurs: be passionate and be authentic. "Your passion is going to fuel you. It's what will drive you for- ward, because starting a business is not for the weak of heart. You have to be very strong-minded and know there are going to be a lot of bumps in the road." Also, you have to make a "genuine connection" with consumers because these days they are very smart "and they can see through any phoniness or any fakeness."
Don't set out to make money, adds Melvin. "If you're money-driven, that can typically become the beginning to your failure," he explains. "We believe we have been put in position for purpose and not profit. And when you are following your passion, when you are doing the things necessary within your particular space, the money will come."
Another important thing is holding onto the vision while letting go of some control so you can scale. Because if you want to grow beyond a certain level, you're going to need to expand and that means "you're going to need more help," he says. "You're going to need more access, more resources, more capital, more expertise. And so, at that point you have to be open-minded for more help…"
How have the Rodriguezes flourished, building a highly successful business and a happy family at the same time? It starts with their shared faith, she says. "Keeping God at the center of everything, so we have a solid foundation . . . when the wind blows, when things get challenging, you're not going to fall." Additionally, they play to their strengths; hers on the creative side and his on the business end. "It's very important that you identify areas that you're weak and areas that you're strong and you complement yourself with somebody that has a stronger skill set in an area that you don't," she says.
Melvin agrees with that and adds priorities. "For us, it's God, family, then business and/or work," he says. Aligning everything to that ranking "has allowed us to coexist and do well and do it together," he says. "And, quite frankly, it's that [much] more special when you build together versus by yourself."

MONIQUE RODRIGUEZ:
MY WAYMAKERS
Lisa Price [founder of hair care company Carol's Daughter], Richelieu Dennis [founder of SheaMoisture's Sundial Brands] and Germaine Bowles Lethbridge [founder of IKNOW Skincare] . . . have paved the way for someone like me to do what I'm doing today. [I'm grateful] to have the mentorship and guidance of people that were heavily involved in the industry, that showed us the ropes and taught us the way.
MELVIN RODRIGUEZ:
MY WAYMAKERS
I would start with my father. He was a single dad raising us, but he always found ways to provide a way, even in the struggles and the trying times. I was able to watch his drive to do the things necessary to take care of [us], provide a roof over our heads, the best he could, based on the best he knew. My admiration in the sports arena [leads me to] Michael Jordan, and his work ethic. I'm a huge fan of Kobe Bryant—seeing his hard work, the dedication, the commitment; it's honestly helped me in my position as a leader in business.