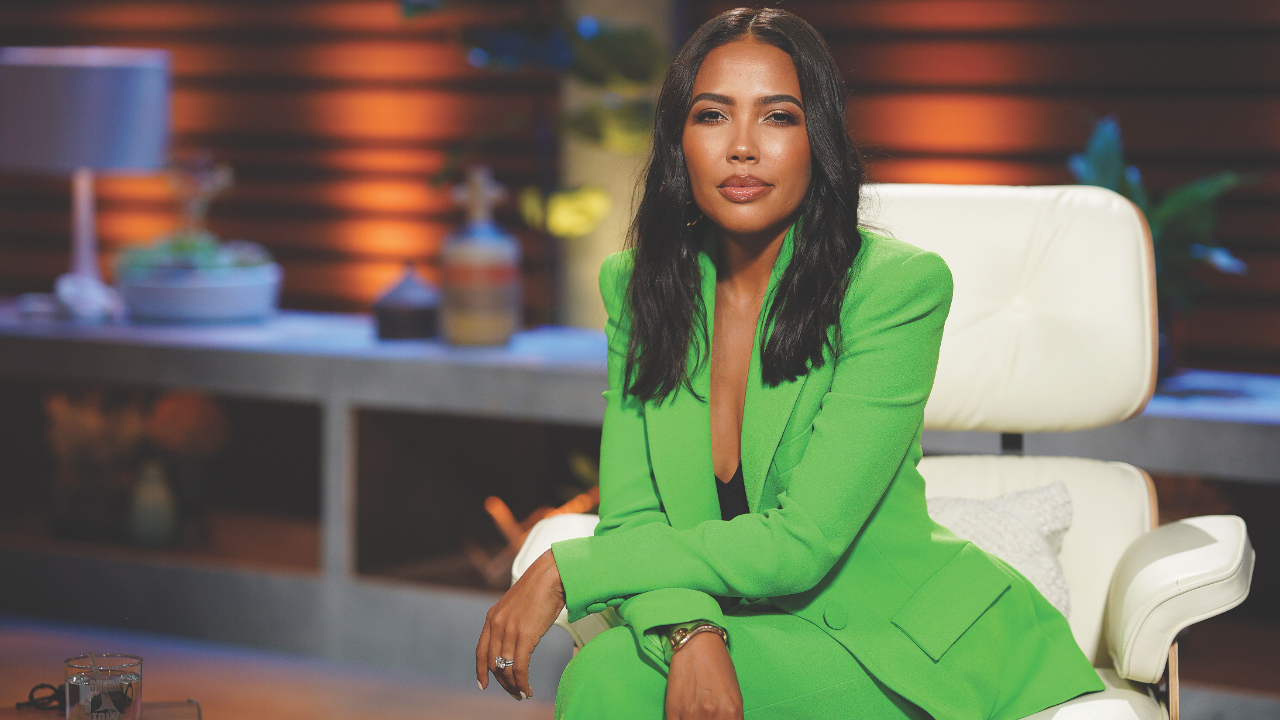 Shark Tank

judge

Emma Grede

is making a way for other would-be businesswomen
Emma Grede knew what she wanted to do with her life from a young age. She never dreamed of being an ice skater or anything like that. Growing up in East London, England, where she often inherited hand-me-down clothes from cousins, "I always wanted to be in fashion." Though she was interested in style, following supermodels like Naomi Campbell and Kate Moss, what really fascinated her was "the individuals and the businesses behind the actual looks," she says. "I would find myself reading up on all of the brands and trying to understand how those businesses worked."
She obviously figured some of that out because today, Grede is a multimillionaire entrepreneur and business leader in partnership with some of the biggest names and brands in fashion. Grede is CEO and co-founder of size-inclusive denim company Good American, founded with Khloé Kardashian in 2016 to offer high-quality jeans, swim, activewear and shoes for all shapes and sizes, and founding partner and chief product officer at underwear, loungewear and shapewear Skims, co-founded with her husband, Jens, and Kim Kardashian. Additionally, she is co-founder with Kris Jenner of plant-based cleaning brand Safely. While her name may have been well known for her partnerships with the Kardashians, Grede's face wasn't that familiar to many until she accepted an invitation to join the panel of potential investors on ABC's popular Shark Tank. It was a decision she took seriously, she explains. "When I moved to America, I constantly had this label of a Black woman in business and the first this, and this list and that list, and what I realized is that I certainly was happy with that label of being the first, but I didn't want to be the last," she says. "It's one thing to say I want other women, other Black women and women of color, to follow in my footsteps. There's another thing actually creating the opportunity for that to happen, and so I really saw Shark Tank as a means to an end. My thought was that if you see somebody like me on that judging panel, then you start to think about your opportunities differently." Grede seems to have been right; she references a 600% increase in Black applicants to the show in her second season. "Sometimes seeing is just believing," she says. "The idea was really about not only creating opportunities in the space for Black founders to feel like they could apply but also giving that platform because Black businesses aren't just for Black people. We can all buy into a great idea. So, it's really just about allowing those businesses to come to the forefront and giving them the platform... I was really, really happy to have the opportunity to do it, but it was about really making sure that I'm not the last Black woman on that panel."
CREATING OPPORTUNITIES
Part of Grede's drive to pave the way for others comes from the obstacles and challenges she has faced. "If you are not just a woman in business, but a Black woman in business, there is always this idea that when you are in the room, there's always people looking over your shoulder," she tells Way-Maker Journal. She recalls being in boardrooms where people who had not met her before didn't realize she was in charge, looking for someone else to have the answers. "I don't let those things get to me," she says. Nor has she been held back by her lack of formal education. "I haven't allowed myself to be put in a box, and I really have fought against the narrative that people might make up for me... I'm very focused on creating opportunities for other people because I know how hard it's been for me, and I think that if I can show one person or inspire one woman that comes from a similar background and from a family of not much means, then my job will really be done."
"I REALLY HAVE FOUGHT AGAINST THE NARRATIVE THAT PEOPLE MIGHT MAKE UP FOR ME" With that in mind, what is one thing she knows now she wishes she would have known when she was starting out? She speaks of spending too much time seeking approval from others or looking for someone else to tell her it was OK. "I was really looking for permission to do things differently, permission to start on my own, somebody to tell me that I might be good enough, and as soon as I stopped seeking permission and just stopped doing what I thought was expected of me, that's when my life really started to change," she says. Instead of focusing on the fact that she didn't know anyone who had started a business, which became a roadblock, she told herself she just had to get started because no one else would give her the opportunity. "It wasn't like anybody was particularly stopping me," says Grede. "I honestly believe you create a narrative for yourself, and you tell yourself things, and I just had to start telling myself a very different story. So, it was much more about getting out of my own head and taking away the limitations that I set for myself. And that was really when things started to change." Moving to the U.S. required learning some new ways of doing business. For example, scale is of a different order on this side of the Atlantic. Good American launched in Nordstrom, she points out, launching in 165 department stores from Day One, a breadth of distribution that "just isn't possible in England and certainly not even in Europe." Grede also appreciates the possibilities of the American dream—"you know, a belief that you can start something and see it grow and become really successful. I think that's really championed uniquely in America, unlike in a lot of other countries. There is still this idea that people will get behind you and champion you if you've started something yourself from scratch."
FINDING A NICHE
Grede is looking for three things when she is considering an investment, she says: the founder, the fit and the future. "I'm pretty founder-focused," she explains. "I'm always thinking about that person that's got to drive the business because, as an investor, it's not your job to get in and try to say, 'Well, I can make this great.' You've got to believe in the person that is ultimately gonna drive that business day to day. Do you think that they've got it?" Next, does this opportunity suit her area of expertise? She wonders whether she can be "more than just money to that person." Because "I actually think that at a certain point, finance or money is relatively easy to come by. But you've got to come with something else as an investor: are you strategically aligned? Do you have the right network to really help that entrepreneur do something that they can't do themselves? "Finally, the opportunity has to be something that interests her, that has potential. "Is it something that I really believe is missing? Do I believe that there's something that is not currently out there?" It's all about spotting a gap in the market, because there are few completely original ideas out there, Grede says. "How are they doing something that's uniquely them or uniquely of this time and of this moment?" Good American isn't the first company to make jeans, nor is Skims the first shape-wear business, she points out. "But we've actually found a niche.
"SPECIFICITY IS REALLY IMPORTANT WHEN YOU'RE THINKING ABOUT LAUNCHING A NEW BUSINESS."
We deliver something to customers that isn't in the marketplace and for a very specific customer... specificity is really important when you're thinking about launching a new business." Grede acknowledges how a big name can help give a business a boost. Before her connection with the Kardashians, she worked on lots of celebrity brand partnerships through her talent management and entertainment marketing agency, ITB Worldwide. "What I really understand, I think uniquely and better than maybe anybody else, is the power of celebrity to accelerate a brand and really about harnessing the power of social media," she says. "But none of that can be taken for granted, and none of it works without a killer product.
"TO GET A CUSTOMER TO COME BACK TIME AND TIME AGAIN, YOU'VE GOT TO CREATE INCREDIBLE PRODUCTS"
At the end of the day, what I do in my businesses is create best-in-class products." Celebrity support can help make sure people know about something, but ultimately "to get a customer to come back time and time again, you've got to create incredible products." Even with the best products, however, minority entrepreneurs face an additional hurdle in growing their market share. That's why Grede is the chairwoman of the 15 Percent Pledge. Founded in 2020, the nonprofit challenges big businesses to review their operations to ensure they give 15% of their shelf space to Black-owned suppliers to reflect the U.S. population breakdown. So far, almost 30 companies have signed on—including Athleta, Bloomingdale's, Crate & Barrel, Gap, Macy's, Nordstrom, and West Elm—and channeled around $14 billion in business to Black-owned businesses. "I'm unbelievably proud of that work," she says. "I think that when you get into a position of some influence, what is really important is how do you use that influence? It's not just about being an example and telling women or Black people like, 'Look at me; you can do it because I've done it.' It's really about creating those pathways."
'HAVING IT ALL'
I think that it's really important as a woman in business that you dispel this idea of some magical balance. It's called a trade-off, and as a working mother, you have to get comfortable with that concept. I have a lot of help, and I think that we need to remove the shame that's attached to women and admit it; it takes a village, and I pay the village to help me get through the day. I'm not perfect. I'm a devoted mother, but I'm devoted to knowing I'm raising strong children who know themselves, who love themselves. I'm not at the school gate every day, I'm not at the school gala, and that's OK with me because my children get something else from me, and that's the lesson that it's OK to have dreams for yourself and to go after them without sacrifice. I really think it's important that your children and your family also see you happy and fulfilled. I don't want my kids to grow up feeling like I'm sacrificing; I'm not. I grew up with a working mother, and I was honestly raised to believe that a working woman was a happy woman. And I think my kids will feel exactly the same, but I honestly believe that for most women, we have to dispel the idea that having it all is the goal. It isn't the goal. The goal is actually to satisfy yourself, whatever that might be. And we all have different comfort levels, but the sooner you get to grips with the idea that there's a trade-off, I think, the better.
EMMA GREDE:
MY WAYMAKERS
There are a couple of critical people that have really helped me in my career. It's no secret that I worked with my husband and have done for many, many years. We worked together before we had a relationship together, and I think that Jens was probably the first person—certainly my first investor—that really believed in me and my unique talent. He and his partner, Erik [Torstensson], were serial entrepreneurs; they owned a bunch of agencies in and around fashion and advertising when I was much younger, [and] they were the first people to really believe in me and take a chance on me. When somebody else shows you that they believe in you, you really start to believe that for yourself, but also you want to live up to their expectations, and so I think that that was really pivotal for me. They were really important mentors to me, and still, to this day, my husband has been hugely influential on my business career and certainly my biggest supporter.