WayMaker aims to influence, motivate and inspire individuals to attain their best life by providing the knowledge and journeys of subject-matter experts who have not only been through something but have come through something.
If you are anything like me, you know that you didn't get where you are in life all on your own. There were others guiding you and cheering you on. We all need people like that—maybe more than ever, after a year of such immense economic, racial and cultural turmoil.
As you may be aware, I have been active in educating, motivating, inspiring, mentoring and philanthropy for many years, but I believe we are in a time now when we all need to step up our game to make a greater impact.
That is why I am launching a new initiative to help provide direction, wisdom and inspiration to people wanting to grow their life and change the world...
WayMaker.
This umbrella brand will offer insight from subject-matter experts across a wide range of fields. We focus on business, entrepreneurship, finances, health, relationships, and personal development.
You will be able to access this content through master classes, conferences, online training, podcasts, books and study guides, and a new quarterly publication launching soon, WayMaker Journal!
In the first issue, you will hear from actor Hill Harper, artists Lecrae and Charles Jenkins, fashion designer Amable Yalong, NBA referee James Capers, advertising executive Danielle Austen and others. They will be sharing their journey and expertise in support of the WayMaker mission:
"Grow your life and change the world."
Now more than ever, we all need each other to be our best possible versions of ourselves. I hope you will join me in seeking to help others become and achieve all they can.
Louis Carr
Founder, WayMaker
LOUIS CARR
Media Mogul. Motivational Speaker. Philanthropist. Author.
Louis Carr has been with BET Networks for 36 years, serving as the President of Media Sales for the last 21 years. During his tenure with the company, Carr has transformed the multicultural space for some of the world's biggest brands. Through strategic partnerships with corporations like Procter & Gamble, Unilever, McDonald's, General Motors, Facebook, Apple, and many more, he has been a guide and a consultant on opportunities that exist within black and brown communities. Through his deep understanding of linear TV, digital and social platforms, he has made BET Networks the number one brand and choice for Black consumers. Carr's mantra, "Be led by data and insights," has driven BET to have the largest repository of information on Black consumers than any other media company worldwide. His understanding of this data has inspired him to create content and messages that help marketers sell products and services and help them become good corporate citizens.
In addition to Carr's stellar professional career, he has had a long-term commitment to young people and his community. Carr founded the Louis Carr Internship Foundation (LCIF) 19 years ago to help improve diversity in corporate America through paid internships. The foundation has provided 200 paid internships, in which 60 alumni now have full-time jobs within the industry. He has also created The Blueprint Men's Summit and The Blueprint Connect Podcast, which bring together some of Black America's high profile thought leaders to educate Black men in the areas of Finance, Health, Careers, Relationships, and Entrepreneurship. Staying true to his commitment of giving back, Carr launched his latest brand called WayMaker. He purposed this initiative to help provide direction, wisdom and inspiration to people wanting to grow their life and change the world. Through the quarterly WayMaker Journal and other avenues, the umbrella brand offers insight from subject matter experts across a wide range of fields.
Carr has authored two books, Dirty Little Secrets and Little Black Book: Daily Motivations for Business and Personal Growth. He openly lays out his blueprint to greatness, covering much- needed topics like Leadership, Culture, Strategy, Vision, Success, and Diversity.
Most recently, Carr was inducted into the 2023 Advertising Hall of Fame. Carr has also been recognized by theboardiQ as a Top 100 Hall of Fame African American and was named one of the Most Influential Black Corporate Directors by Savoy Magazine. He has served on more advertising industry boards than any other African American. He held seats on the International Radio and Television Society (IRTS), the Video Advertising Bureau (VAB), the Advertising Council, and the American Advertising Federation (AAF).
He currently serves on Cedar Fair's Board of Directors, Drake University's Board of Trustees, and The United States Track and Field Foundation (USATF) Board.
Mr. Carr attended Drake University on a full athletic scholarship and received a B.A. in Broadcast Journalism. He has been happily married for 36 years. For more information, visit iamlouiscarr.com or follow him on Facebook, Instagram, and Twitter @iamlouiscarr and Louis Carr on LinkedIn.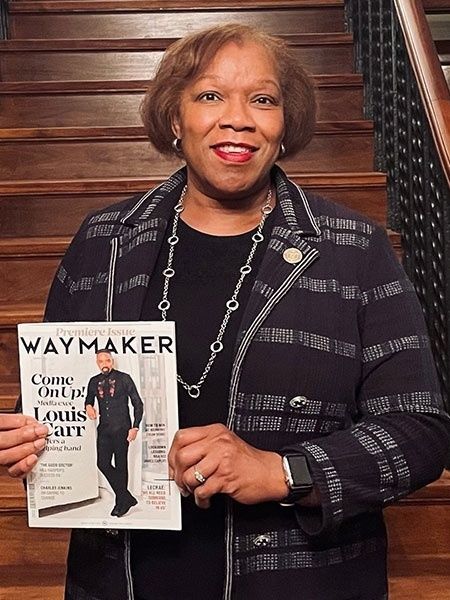 Z. Scott
The first issue of WayMaker presented thought-provoking and expertly researched articles that speak to the heart of our community. I look forward to the next issue. Thank you Louis Carr!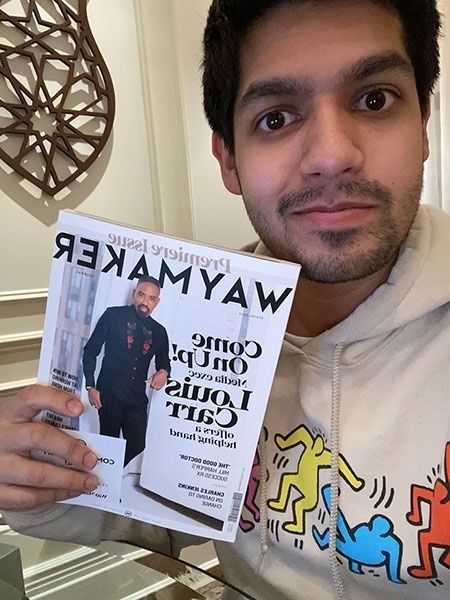 Ziad Ahmed
WayMaker is the manual that we've been waiting for to help us each chart our own path forward towards living a life worth living. It's an honor to be included in the premier issue – and I can't wait for that's to come.
The Hollowells
A must-read! WayMaker lays out a path to inspire and celebrate Black excellence. Honored to be in your inaugural addition.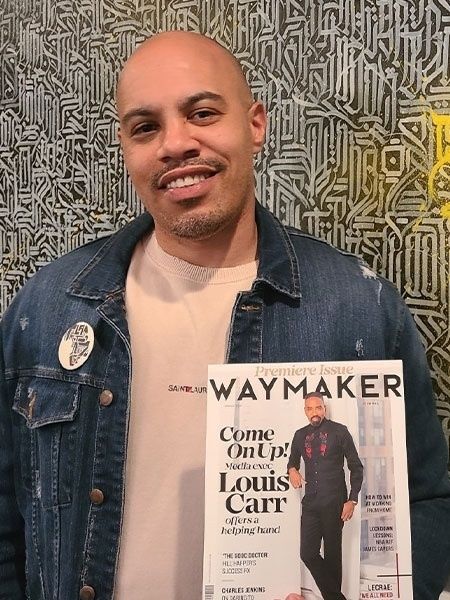 Terrance Pratt
I really enjoyed reading WayMaker. Powerful insights in a relatable format. The clean imagery and sophisticated presentation are added pluses.
Ian Brock
It's truly inspiring to read stories and different journeys of people's successes. I'm even more encouraged to help make ways for others.
Nicole Marie Pittmon
Waymaker is a well written magazine with insightful human-interest stories from aspirational leaders. A perfect easy read to unwind and escape from a busy week.
Toi Salter
WayMayer Journal is like a new BFF...beautiful cover to cover, engaging, uplifting & wants to see me WIN! I love it.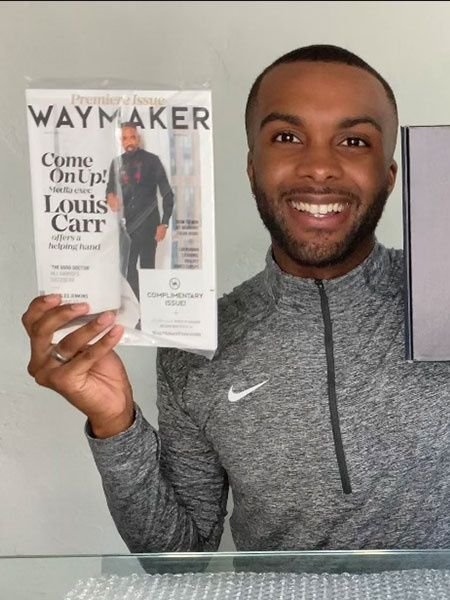 Cameron D. Hubert
The WayMaker Journal is DYNAMIC! The stories shared and insights given are unique and powerful. If you're looking to answer integral questions for your next steps in life, WayMaker can serve as a great resource.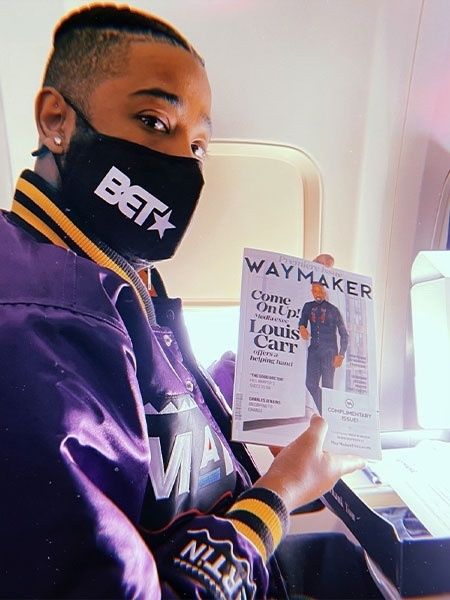 Chris Bivins
The idea of WayMaker couldn't have come at a better time. We all needed something to inspire and give us hope to be better.
Rose Clifton
The WayMaker journal is insightful and inspiring. It provides a wealth of critical information on leadership, justice, style and day-to-day living. What a treat!
JackBiz
Mostly "thank you". The whole WayMaker message resonates with me. The Premier Issue brought that message to life for me through inspiring profiles and stories.
Joelle
Louis Carr's WayMaker Journal is extremely motivating. The compelling articles convince me to examine myself, my impact on others, and to bring my best self.
Melody Spann Cooper
Louis has set the bar high with WayMaker establishing his own take on mission-branding and challenging all of us to strive for Black Excellence!
Laya Wattley
I love the Journal. I find that the articles are both uplifting and inspirational. These empowering stories are definitely needed during these difficult times that we live in. Looking forward to reading more.
Andre Hill
WayMaker is a necessary publication during these times to re-paint the misrepresented narrative of Black culture and showcase fresh faces moving culture and society forward.
Chris Morrow
Come on up is right! The words inscribed in this tome are a tribute to Louis Carr's incredible journey, and will guide any and all who read it to a fulfilling career. Well done!
Courtney Tavazo
This publication was a true inspiration. Waymakers are an essential part of today's world. They pave the way for others to achieve greatness & allow their mentees to one day become waymakers as well.
Ted Ellis
I am posting and reposting on my social media platforms, and receiving great responses to the magazine and article. Mr. Louis Carr is outstanding, and I appreciate all the opportunities he has provided for me, my family and community!!!
Jaicee Christian
WayMaker is a well put together magazine giving out highlights of people doing great things in this world.
Brynne Spears
Overall, I enjoyed reading every story provided in this issue of WayMaker Journal, especially the stories involving past LCIF interns and where they're working today.